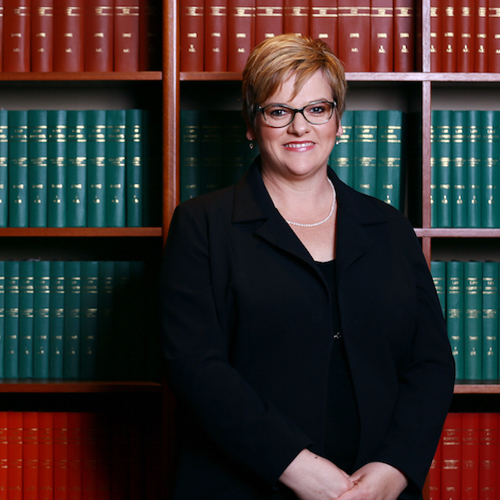 Postal Address:
19 Inns Chambers, Level 19, Inns of Court,
107 North Quay, Brisbane QLD 4000
Phone:
+61 7 3236 4282 / +61 407 713 897
LLB (Hons); LLM; SJD
Dr Kerri Mellifont QC has been admitted as a Barrister based in Brisbane since 1994, taking silk in 2010.  Her key areas of practice are:
Conducting mediations;
Facilitating expert conclaves;
Criminal and regulatory law across the full gamut of State and Federal regimes, including, but not limited to:

acting in closed hearings for and against regulators;
substantial experience in WHS and mining death/injury proceedings;

Medical law, including disciplinary proceedings and insurance law;
Inquests (including as Counsel Assisting);
Commissions of Inquiry / government review and inquiry work;
Administrative law across State and Federal regimes.
Kerri's extensive advocacy experience means that she is also sometimes briefed in matters outside her core areas, but which require complex cross-examination of a witness or witnesses.
She was a member of the Psychologists Board of Queensland from 2005 until 2010.
She holds a doctorate from QUT in the topic of illegally and improperly obtained evidence and is the author of the Federation Press book on that topic entitled "Fruit of the Poisonous Tree".
She was the senior legal officer in the Commission of Inquiry into Abuse of Children in Queensland Institutions 1998/1999, and was one of the silks acting as Counsel Assisting the Flood Commission of Inquiry 2011.  She also represented clients in the Barrett Adolescent Centre Commission of Inquiry 2015/2016 and the Independent Review of Youth Detention 2016.
Kerri is currently one of the Senior Counsel Assisting to the Royal Commission into Violence, Abuse, Neglect and Exploitation of People with Disability.
Kerri has been recognised in Doyle's Guide as a Leading Employment and WHS Barrister for Queensland in 2016, 2017, 2018, 2019 and 2020, and, in the Recommended category Australia wide in 2016 and 2017.  She has also been recognised by Doyle's Guide as a Recommended Insurance and Personal Injury Barrister for Queensland in 2016.
Kerri was the recipient of the WLAQ 'Woman Lawyer of the Year' Award 2017.
Kerri also has a particular passion for acting as a mediator and helping people achieve outcomes through that process.
Primary Areas of Practice: